Resources on Respiratory Syncytial Virus (RSV) Infections
You are probably hearing and reading about an increase in RSV cases. The National Library of Medicine has put together some resources to help you better understand and prevent the spread of RSV.
Respiratory syncytial virus, or RSV, is a common respiratory virus. It usually causes mild, cold-like symptoms. But it can cause serious lung infections, especially in infants, older adults, and people with serious medical problems. See a list of resources posted on our latest blog.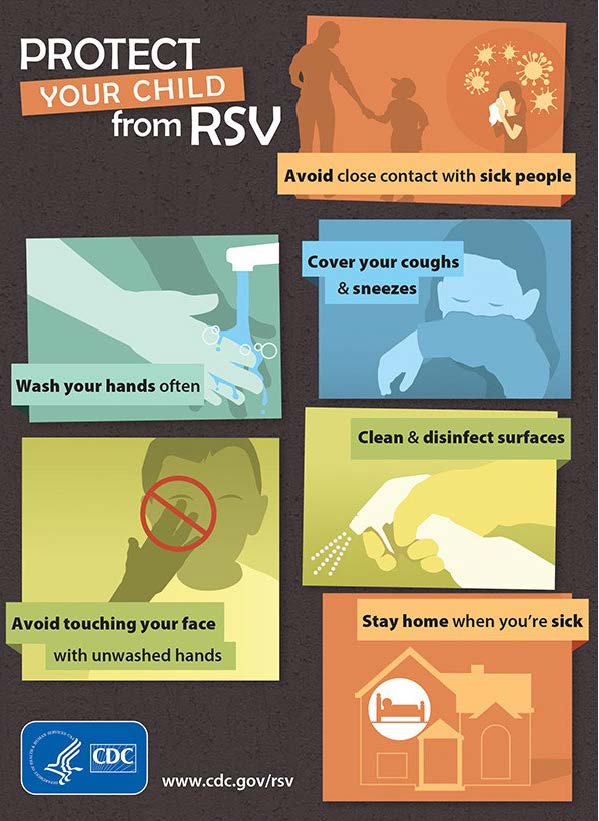 Updated Driver's License Manuals and Online Test
The Motor Vehicle division has released the latest version of the Iowa Driver's License Manual and Online Practice Test.
New content includes information on advanced driver-assistance systems including features and limitations, new roadways in Iowa, and sharing the road with cyclists.
New driver assistance technologies such as warning systems, camera, and detection technologies in our vehicles are designed to keep passengers, other drivers, and pedestrians safe – it's important to educate new drivers about these new technologies and how they can potentially impact their driving experience. Our intention is to provide the best resource to Iowa drivers in an accessible way to inspire a lifelong habit of safe driving.
The newest version is currently available in 23 different languages, including Dari and Pashto. English and Spanish manuals are available in hard copy at a service center near you, all other languages can be found online Iowa Driver's License Manual.
Iowans who are planning to take the knowledge exam can use the Iowa Driver's License Manual as a resource along with our online practice test Iowa Driver Practice Test - Motor Vehicle Division. 20 out of 25 questions must be answered correctly to pass the knowledge exam.
People's Law Library of Iowa
The State Library has launched an online legal resource for Iowans..
The State Library, in partnership with the University of Iowa Law Library, has launched the People's Law Library of Iowa. This is a resource website providing easy to understand information on topics related to Iowa's laws .People's Law Library of Iowa will help Iowans understand and navigate legal topics
The website includes information on legal topics such as consumer law, family law, and landlord/tenant law, as well as guidance on researching legal issues, a glossary of more than 100 legal terms and more.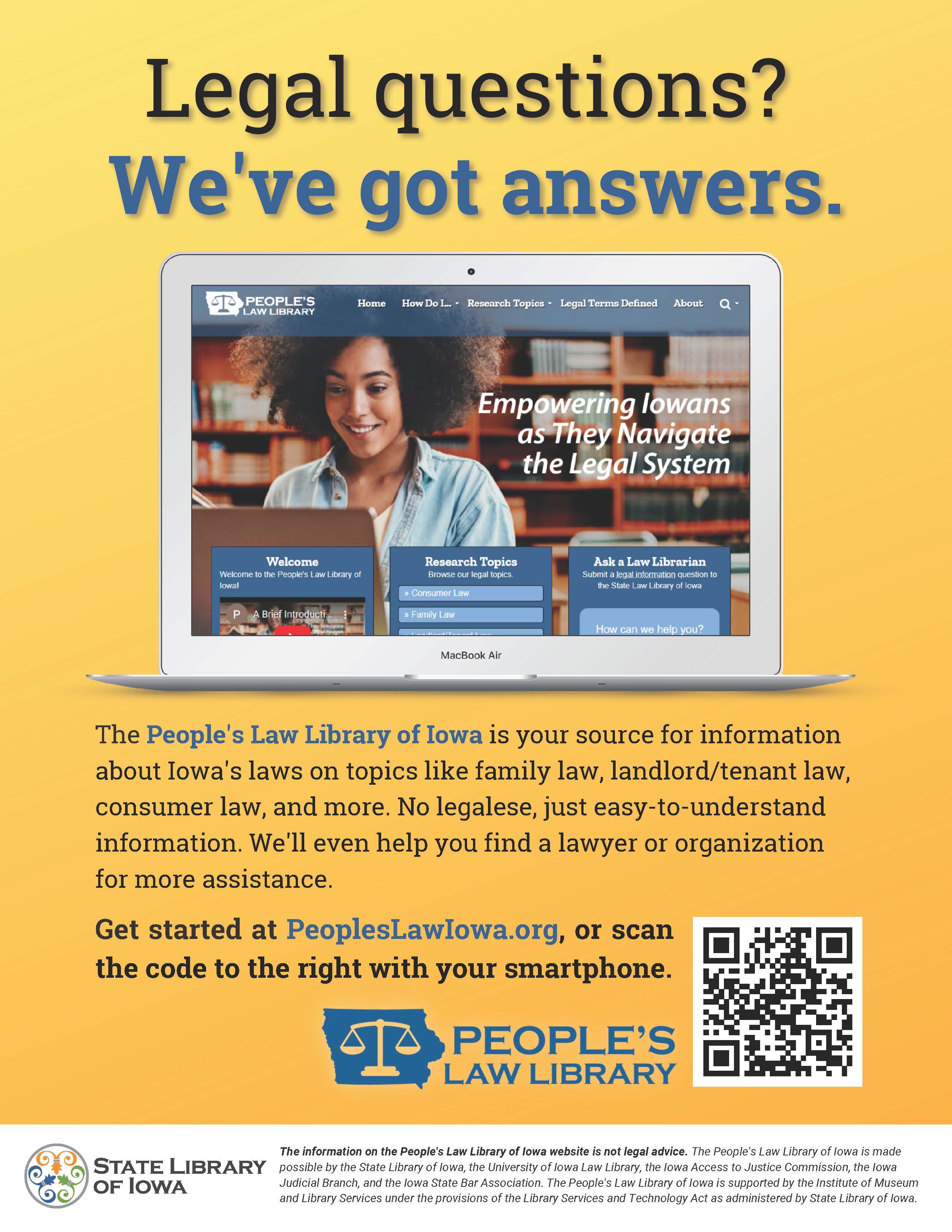 211 Iowa
The 211 is a Health, Human, and Social Services's information and referral helpline. It is nation wide, connects you to community resources, used in times of diasters, and is Statewide, Free, Confidential, and Available 24/7. For local support:
Dial 211
Visit 211iowa.org
Text zipcode to 898211
Download 211 Iowa App
LifeLongLinks
LifeLongLinks is an aging and disability resource center sponsored by the Area Agencies on Aging. To access website click on LifeLongLinks.org
Call Toll Free 1-866-468-7887
For persons over 60 or 18-59 with a disability
Caregivers (person caring for someone 60 years or older)
Veterans
Provides the following:
Information and Assistance Services
Nutrition and Health Promotion
Promotes Independance
Iowa Compass
Iowa Compass is sponsored by the University of Iowa Healthcare Center for the Disabilities and Development and it's purpose is to provide referrals and information to people with disabilities. To contact them:
COVID-19 Vaccine Information
For the most current up to date information, visit the CDC's web page on COVID-19 vaccines.
Multilingual COVID-19 resources, including Pfizer fact sheets, are available on the FDA's website.
COVID-19 Vaccine
COVID-19 vaccination is an important tool to prevent the spread of COVID-19 and bring an end to the pandemic. Vaccines have shown to be effective at helping protect people from getting the virus. When you get vaccinated, you're protecting yourself, your family & your community.
COVID-19 vaccines available in the United States are effective at protecting people from getting seriously ill, being hospitalized, and dying. As with other vaccine-preventable diseases, you are protected best from COVID-19 when you stay up to date with the recommended vaccinations, including recommended boosters.
Do you have questions about vaccine safety and effectiveness? Here's what you need to know: CDC website. (CDC website available in multiple languages).
COVID-19 Vaccine Websites
The VaccineFinder.org website helps people find information about providers who offer select vaccines. VaccineFinder shows you locations that have available COVID-19 vaccines. VaccineFinder will provide you with a link to schedule the appointment through the location's website or with a phone number to call to make an appointment.
CDC Facts about COVID-19 Vaccines in Multiple Languages
Scheduling
Iowans with barriers to scheduling an appointment who are 65 and older, or 16-64 with underlying health conditions, can call 211 or 1-800-244-7431 for assistance to schedule an appointment. The call center is open 7 days a week 8 am - 5 pm (not available on Sunday, April 4). Language assistance is available for the 211 services.
The multilingual hotline can also help schedule appointments for English Language Learners. Call 1-877-558-2609 Monday-Friday, 8:30 am - 5:00 pm.
Covid-19 Data
Iowans can now find COVID-19 reporting data on the IDPH website. The data on the page will be updated weekly on Wednesdays. The new format contains data points that Iowans are used to seeing reported including positive test data and vaccine administration. idph.iowa.gov