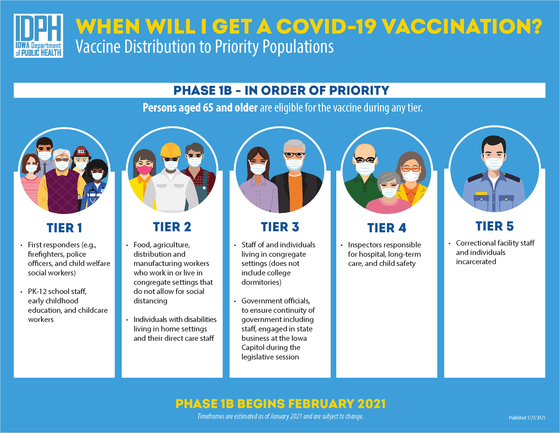 COVID-19 Vaccine Phase 1B
The Iowa Department of Public Health (IDPH) has released an update on Phase 1B of the COVID-19 vaccine distribution, which will begins February 1, 2021. Due to limited supply, IDPH has implemented a tiered prioritization of eligible groups. Note that persons 65 years old and over will be eligible to receive the vaccine during any tier. Additional populations vulnerable to high risk of exposure or severity of illness will be eligible to receive the COVID-19 vaccine as indicated in the tiers below. .
You may contact your healthcare provider, pharmacy, and county health department for locations of where to get a vaccine. Additionally, the vaccine finder website will be updated in the upcoming weeks as providers share where you may get the vaccine.
For more information and updates, visit the Iowa Department of Public Health's website and social media pages.
Where can I get the COVID-19 vaccine?
The State of Iowa coronavirus website has a tool where you can find a vaccine provider near you. Iowa has begun Phase 1B with tiered priority groups, but there continues to be a limited supply of vaccine in Iowa. For details and to locate a provider, visit: coronavirus.iowa.gov
In addition, the Iowa Department of Public Health announced a one-time allocation of unused vaccine for Iowans 65 years old and over. Appointments can be scheduled at select Walgreens and CVS pharmacies in certain counties.
For general questions about the vaccine, you may call 2-1-1.