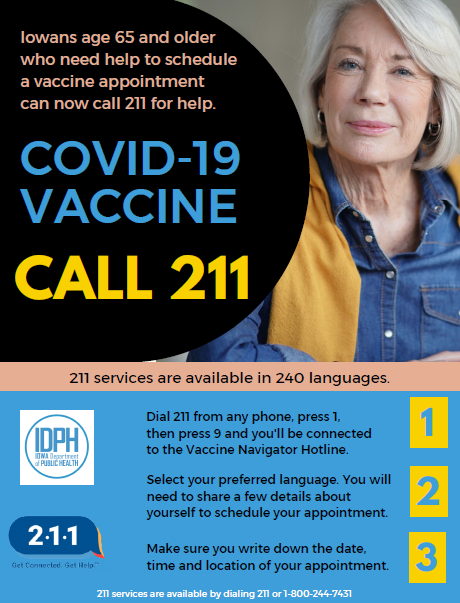 West Point Public Library Phased Reopening Plan
Please click to see the library's phased reopening plan. The library is currently in Phase 4.
Vaccine Website
Vaccinate.iowa.gov is live! Iowans can find information about vaccine priority populations and eligibility, resources available for Iowans age 65 and older, and answers to frequently asked questions about vaccine. The site also hosts a locator tool where users can enter their zip code to find vaccine providers near them.
COVID-19 Vaccine Information for Children and Teens
Children 12 years of age and older are now able to get the Pfizer-BioNTech COVID-19 Vaccine.
The CDC recommends getting a COVID-19 vaccine for your child and offers tips on how to prepare for the child's vaccination visit.
The COVID-19 vaccines have been used under the most intensive safety monitoring in U.S. history, including studies in adolescents.

Your child will need a second shot of the Pfizer-BioNTech COVID-19 Vaccine 3 weeks after their first shot.

Your child can't get COVID-19 from any COVID-19 vaccine, including the Pfizer-BioNTech vaccine.
For more information, visit the CDC's web page on COVID-19 vaccines for children and teens.
Multilingual COVID-19 resources, including Pfizer fact sheets, are available on the FDA's website.
Find a vaccine provider and more resources at vaccinate.iowa.gov.
COVID-19 Vaccine
COVID-19 vaccination is an important tool to prevent the spread of COVID-19 and bring an end to the pandemic. Vaccines have shown to be effective at helping protect people from getting the virus. When you get vaccinated, you're protecting yourself, your family & your community.
Do you have questions about vaccine safety and effectiveness? Here's what you need to know: CDC website. (CDC website available in multiple languages).
Beginning April 5, 2021, the COVID-19 vaccine will be available to all eligible Iowans. Iowans 16 and older can receive a Pfizer vaccine. Iowans 18 and older can get the Moderna or Johnson & Johnson vaccine. The vaccine is free regardless of insurance or immigration status. If you do not have insurance or photo ID, you can still be vaccinated. If you have health insurance, vaccine providers may charge an administration fee to your insurance, but the vaccine will always be provided at no cost. Check with the vaccine provider on what to bring to the appointment. Iowans can receive the vaccine in any Iowa county regardless of their home address.
COVID-19 Vaccine Websites
The State of Iowa has a website dedicated to the COVID-19 vaccine information. Visit https://vaccinate.iowa.gov to locate a provider and for resources. The website is available in multiple languages.
The VaccineFinder.org website helps people find information about providers who offer select vaccines. VaccineFinder shows you locations that have available COVID-19 vaccines. VaccineFinder will provide you with a link to schedule the appointment through the location's website or with a phone number to call to make an appointment.
CDC Facts about COVID-19 Vaccines in Multiple Languages
Scheduling
Iowans with barriers to scheduling an appointment who are 65 and older, or 16-64 with underlying health conditions, can call 211 or 1-800-244-7431 for assistance to schedule an appointment. The call center is open 7 days a week 8 am - 5 pm (not available on Sunday, April 4). Language assistance is available for the 211 services.
The multilingual hotline can also help schedule appointments for English Language Learners. Call 1-877-558-2609 Monday-Friday, 8:30 am - 5:00 pm.