The Healing Library is a series of kits designed to make a family's journey of healing following a trauma easier to navigate and personalize.

Each Kit consists of the following:
A Discussion Guide

– with tips for discussing the difficult subject as a family


Activities Guide

– consisting of holistic art & play therapy activities to assist in expression, communication, & healing, we recommend you also include the materials to participate in the activities in your kit

Acts of Kindness Guide

– featuring proactive activities of community support designed to empower

Community Helpers Guide

– with national suggestions and opportunities for local customization, we encourage you to customize this section with local resources

Curated Book Suggestions with Discussion Guides

– providing observation and discussion prompts to utilize while sharing for each book provided

How to Use This Kit Guides

– for both families and lending organizations
By providing this wide variety of materials as well as the books and supplies needed to participate in the various activities lending organizations allow families to explore their healing journey without the distraction of added research or shopping. Instead, families can simply share in the experience of healing while engaging in social emotional learning together.
Kits have been donated by the Lee County Health Department.
Divorce and Separation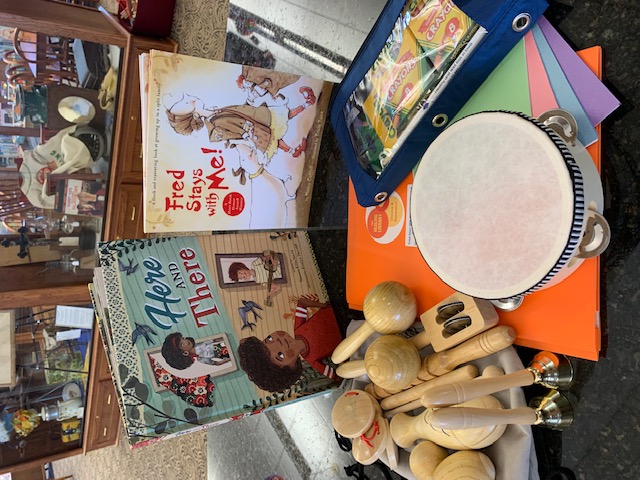 Here is what one can find inside this Healing Library Backpack:
Picture book Here and There by Tamara Ellis Smith (Best for K to 3rd grade)
"Fred Stays with Me" by Nancy Coffelt (Best for ages 3 to 6 years)
Ukulele and tuner
Container of birdseed
Container with art supplies including a stapler, glue sticks, pencils, scissors, card stock and paper clips for the activities
Binder with "The Healing Library: Family Materials" showing in the viewer window. In that binder will be:

Parent Guide to Divorce and Separation, prepared by LCSW Bonnie Thomas
Book Discussion guide with page by page pointers for parents and discussion questions to engage their children
Guide to making a Here & There Journal to help children reconcile and acclimate the movement between two family places
Guide to Birding Here & There with birding tips and Here and There-themed bird seed packs for children's pockets
Ukulele playing suggestions and inspirations plus a song sheet from the book
Death of a Pet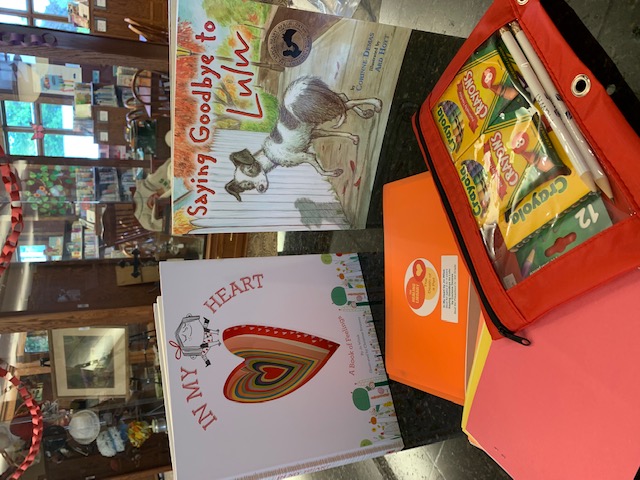 This kit includes:
"Saying Goodbye to Lulu" by Corinne Demas (Best for Preschool to 3rd Grade)
"In My Heart" by Jo Witek (Best for ages 2 to 4 years)
Family materials printed:

A How To Use This Kit letter for parents with suggestions about what's inside and how to get started utilizing the kit.

A Discussion Guide for how to begin understanding what children may be experiencing after the loss of a pet and how to begin talking to a child about such loss.

An Activities Guide that contains instructions for healing activities based in art + play therapy which families can engage in to assist with processing the loss of their pet.

Discussion Guides for all books in a curated book selection related to this topic.

An Acts of Kindness Guide featuring proactive activities designed to empower a family after loss.

A Community Helpers Guide with suggestions of community helpers families can reach out to and opportunities for local customization to highlight what's available in your own community.

Healing Activities:
Death of a Loved One - Younger Children
Inside this kit you will find:
"The Goodbye book" by Todd Parr (Best of Preschool to 2nd Grade)
"Something Very Sad Happened" by Bonnie Zucker (Best for ages 2-4 years)
Container with art supplies including glue sticks, pencils, scissors, cardstock and paper clips for the activities.
Binder with "The Healing Library: Family Materials"

Discussion guides
Activities
Acts of Kindness
List of Community Helpers
Death of a Loved One - Older Children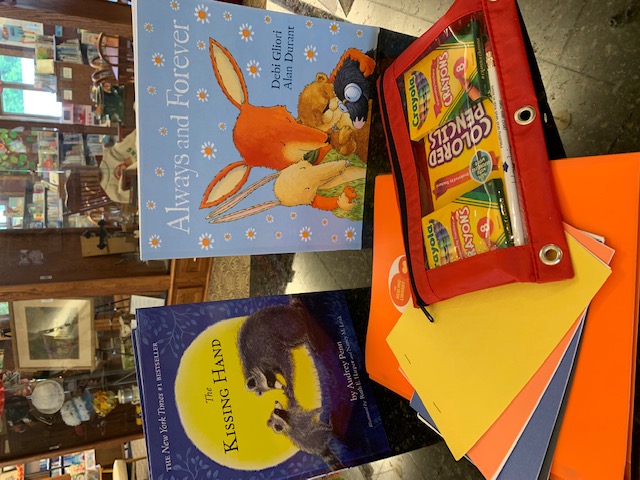 This kit is intended for older children:
"Always and Forever" by Debi Gliori & Alan Durant (Best for K to 3rd Grade)
"The Kissing Hand" by Audrey Penn (Best ofr K to 3rd Grade)

Tips for discussing the difficult subject as a family

Therapy activities to assist in expression, communication, & healing, we recommend you also include the materials to participate in the

activities in your kit

Container with art supplies for activities
Binder with "The Healing Library: Family Materials"

Discussion guides
Activities
Acts of kindness
List of Community Helpers

​